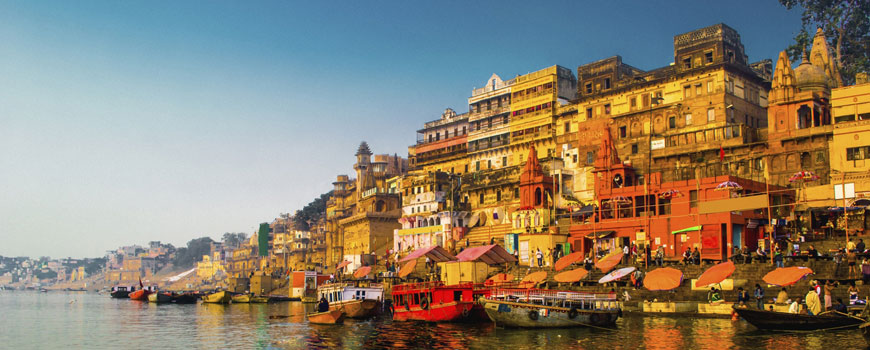 Overview
Do you wish to tour the Golden Triangle circuit in India but with something more added as the perfect garnish over a scrumptious dish? Then here we bring to you the Golden Triangle with Khajuraho tour. This tour spans the three main tourist destinations in North India i.e. Delhi, Orcha, Varanasi along with the famed Khajuraho.
Highlights of Tour :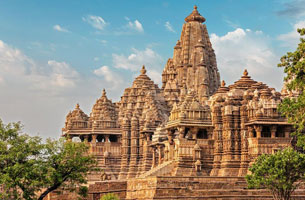 Visit Jantar Mantar, Hawa Mahal, City Palace in Jaipur.
Explore several attractions of Orcha.
Visit Temple City of Khajuraho
Excursion tour to spiritual city of India- Varanasi.
Arrival in Delhi. On arrival you will be received by our staff and he will arrange your Transfer and check in to the hotel in Delhi.

After Refreshment going to visit the Red Fort (Closed on Mondays), Jamma Masjid (Friday Mosque), India's largest mosque where more than 20,000 people can kneel in prayer and Raj Ghat -Mahatma Gandhi's Memorial. In the afternoon visit New Delhi. You will drive past President's Palace and India Gate (42m high), built to commemorate the 70,000 Indian soldiers who died in the 1st world war. Later visit Humayun's Tomb, and the Qutub Minar, the highest sands stone minaret in the world (73 meters) .. Lotus Temple (Bahá'í House of Worship) Overnight stay at Delhi.
Day 02 : Delhi – Jaipur
Abhaneri step well and drive Pink city Jaipur, In the evening you can explore the bustling market of Jaipur by cycle rickshaw ride, which is paradise for shopping lovers, Jaipur is worldly famous for hand woven carpet, precious stones, handicraft, marble, textile, blue pottery, handmade papers, later return to the hotel for overnight stay.
Day 03 : Jaipur
Today after breakfast explore the Pink City with an excursion to splendid Amber Fort, situated just outside the city, and built in 15th Century by Rajpoot Ruler Man Singh, later visit another mighty and majestic Nahargarh fort, which is nearby to Amber fort. Later drive back to the main city to visit imperial 'City Palace', a miraculous places to witness the real Rajasthani and Mughal architecture. Present residence of the royal family of Jaipur. Distinguishing Jantar Mantar innovated and constructed by Jaipur King Swai Jai Singh, he built 05 observatories, and Jantar Mantar in Jaipur is one of them. Visiting splendid Hawa Mahal, also known 'Palace of Winds' built with a concept for the woman of royal families to speculate the royal ceremonies and festivals being hidden from the public eyes. City palace houses both the monuments. The afternoon is for relaxation. In the evening visit at modern artistic temple, Birla Temple, speculator in white shimmering marble, glitters in the night hours. Overnight stay at Hotel.
Day 04 : Jaipur - Agra
After Breakfast drive to Agra is a city in northern India's Uttar Pradesh state. Enroute visit Step Well, Fatehpur Sikri, Red sandstone buildings cluster at its center. Buland Darwaza gate is the entrance to Jama Masjid mosque. Nearby is the marble Tomb of Salim Chishti. Diwan-E-Khas hall has a carved central pillar. Jodha Bais Palace is a mix of Hindu and Mughal styles, next to the 05 - story Panch Mahal that overlooks the site and overnight stay in Agra.
Day 05 : Agra - Orchha
Agra is home to the iconic Taj Mahal, a mausoleum built for the Mughal ruler Shah Jahan's wife, Mumtaz Mahal (who died in childbirth in 1631). The imposing main building features a massive dome and intricately carved white marble inlaid with precious stones. This is set behind a reflecting pool inside a courtyard defined by 04 minarets.. and after breakfast visit Agra Fort, lunch in Agra, Sikandra Fort, Itmad-ud-Daullah, later drive to Orchha, Orchha (or Urchha) is a town in Tikamgarh district of Madhya Pradesh state, India. The town was established by Rudra Pratap Singh some time after 1501, as the seat of an eponymous former princely state of central India, in the Bundelkhand region. Overnight in Orchha.
Day 06 : Orchha – Khajuraho
After breakfast visit the Raj & Rai Praveen Mahal visit on the way like Datia Fort , Jhansi, at Orchha the Jahangir Mahal, the Sheesh Mahal, and drive to Khajuraho, visit the Western, Eastern & Southern group temple, overnight in Khajuraho ... The Khajuraho Group of Monuments is a group of Hindu, Buddhist and Jain temples in Madhya Pradesh, India, about 175 kilometers southeast of Jhansi .. They are one of the UNESCO World Heritage Sites in India. Overnight in Khajuraho.
Day 07 : Khajuraho
After breakfast at hotel in Khajuraho temples were built between 950 and 1050 by the Chandela Rajput dynasty. Historical records note that the Khajuraho temple site had 85 temples by the 12th century, spread over 20 square kilometers Of these, only about 25 temples have survived, spread over 06 square kilometers. Of the various surviving temples, the Kandariya Mahadev Temple is decorated with a profusion of sculptures with intricate details, symbolism and expressiveness of ancient Indian art.
Day 08 : Khajuraho – Varanasi
Enjoy morning breakfast at hotel and leave for Varanasi. Reach and check-inn to hotel at holy city. Get relaxed and in evening Head to Ganga Aarti, pray and enjoy there the holy Ganga Aarti there … ... Varanasi is a city in the northern Indian state of Uttar Pradesh dating to the 11th century B.C. Regarded as the spiritual capital of India, the city draws Hindu pilgrims who bathe in the Ganges River's sacred waters and perform funeral rites. Along the city's winding streets are some 2,000 temples, including Kashi Vishwanath, the "Golden Temple," dedicated to the Hindu god Shiva. Later return to hotel dinner and overnight in Varanasi..
Day 09 : Varanasi – sightseeing
In morning visit sunrise in Ganga and back to hotel for breakfast and rest. Later visit to Sarnath the Buddha place and two Museums and some more Buddhist Temples. Dinner and overnight staying in Varanasi.
Day 10 : Departure to airport /railway station to Delhi or Nepal
After breakfast at hotel leave for departure transfer to board flight / train for onwards destination.